Experience a Refreshing Take on Dentistry
Customized Dental Care for Bright, Beautiful Smiles
Teeth Whitening in Olathe, KS
Wondering how you can quickly improve the appearance of your smile? Thanks to Zoom whitening products at Serenity Dental, you can get the white teeth of your dreams! Our professional whitening procedures in Olathe, Kansas, are a safe and effective way to improve the appearance of your smile and gain some self-confidence.
What is Professional Teeth Whitening?
Teeth whitening is a cosmetic dental procedure which involves treatments intended to improve your smile's appearance. Professional whitening is one of the most popular dental cosmetic procedures offered at Serenity Dental. It's a great way to whiten teeth that are yellowed or stained.
What causes stains on teeth?
Coffee, tea, or red wine

Tobacco productions

Genetics

Certain medications
Teeth Whitening at the Dentist vs. At-Home
When you come to our dental office in Olathe, Kansas, we can help you choose the teeth whitening treatment. Zoom whitening products come in different options. In-office whitening treatments are a quick way to get fast results. At-home trays are more convenient, but results may not be as noticeable or immediate.
Who is a good candidate for teeth whitening?
When you come in for a teeth whitening appointment at Serenity Dental, we'll help determine why your teeth are stained and whether professional teeth whitening is right for you. Our products are most effective on teeth that are yellow, not dark brown, black, or purple. Also, they are more effective on younger adults than older adults. Your teeth should be in good condition with no significant unresolved issues. If you have very sensitive teeth, this treatment may not suit you.
The Zoom Whitening Process
The teeth whitening process begins with an initial exam. The dentist will examine your teeth, determine if your teeth can be effectively whitened, and explain your whitening options.
Next, we will prepare your mouth for the treatment by cleaning your teeth and protecting your lips and gums.
Then, we coat your teeth with the Zoom whitening gel. As the whitening gel sets on your teeth, we will point a special LED light at it. This helps cure the gel and give it more whitening power. We may repeat the process two or three times to reach your desired shade of white.
After the in-office procedure, we provide you with at-home whitening products and care instructions for your teeth.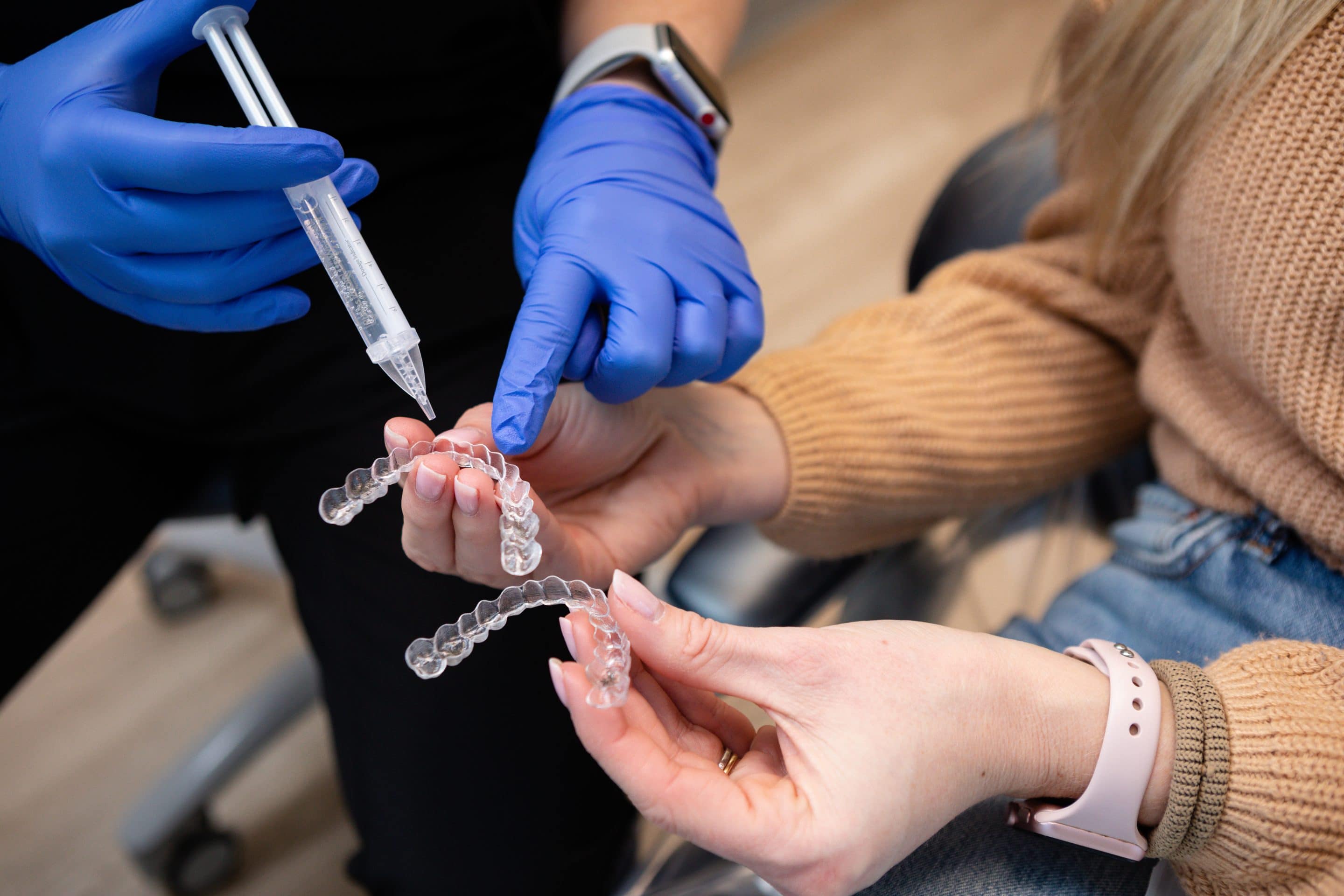 Is Zoom Whitening Painful?
The teeth whitening procedure is not painful, although you may feel a slight increase in tooth sensitivity after the treatment.
Teeth Whitening Cost
Professional teeth whitening is one of the least expensive dental cosmetic procedures. For specific pricing questions, please contact our office.
How Long Does the Zoom Whitening Treatment Take?
A typical in-office dental whitening treatment takes about 45 minutes. The results can last several months or up to a year. Many patients like to get a teeth whitening treatment once a year to maintain their optimal shade of white.
Zoom Whitening in Olathe, Kansas
Are you ready for a brighter, whiter smile? Schedule a consultation at Serenity Dental. We'll help you feel comfortable, and we'll explain all your teeth whitening options so that you can make the right choice for your teeth.