Experience a Refreshing Take on Dentistry
Customized Dental Care for Bright, Beautiful Smiles
Same-Day Crowns in Olathe, KS
Dental crowns are a restorative dental treatment that effectively protects and restores function to a damaged tooth. At Serenity Dental in Olathe, Kansas, we have the technology to design, fabricate, and place a dental crown all in one appointment using CEREC technology. These porcelain crowns are strong, durable, and fit into your smile perfectly. 
Who Needs Dental Crowns?
Your dentist may recommend a dental crown for you if you have one of the following conditions:
A broken or cracked tooth

An extremely worn-down tooth

A badly decayed tooth

An injured tooth

A tooth with a broken or ineffective filling
A dental crown is like a cap that fits over your tooth. The crown protects the tooth by keeping it from breaking or decaying further. Our same-day crowns are very durable and are designed to look just like your natural teeth.
Same-Day Dental Crowns at Serenity Dental
CEREC stands for Chairside Economical Restoration of Esthetic Ceramics. That is a rather complicated title that means you get a high-quality dental crown specially designed for your mouth in one dental appointment. Our first step is to prepare your tooth. We will need to numb the area and then slightly reshape your tooth so the crown can fit over it. We use digital scans of your mouth to create a virtual 3D model that we then upload to the CEREC system so it can design your crown. After the dentist looks it over, the fabrication process begins. The fabrication of the porcelain crown takes about 45 minutes. After it has been completed, the dentist cements it into your mouth. You now have a durable crown permanently affixed to your tooth, and this is all accomplished in one dental appointment.
What is the Difference Between a Same-Day Crown and a Traditional Crown?
A same-day crown requires only one appointment. A traditional dental crown requires two appointments because the crown is fabricated at a dental lab. Both types of dental crowns are reliable, strong, and long-lasting. They are meant to last 7-10 years and can often last longer with proper home care.
Does the Same-Day Crown Treatment Hurt?
Dental crown treatment is painless. We numb the area completely before removing any decay and reshaping your tooth. Affixing the finished crown onto your tooth does not hurt at all. You may experience tenderness in your gums around the new crown, but that will subside within 24 hours.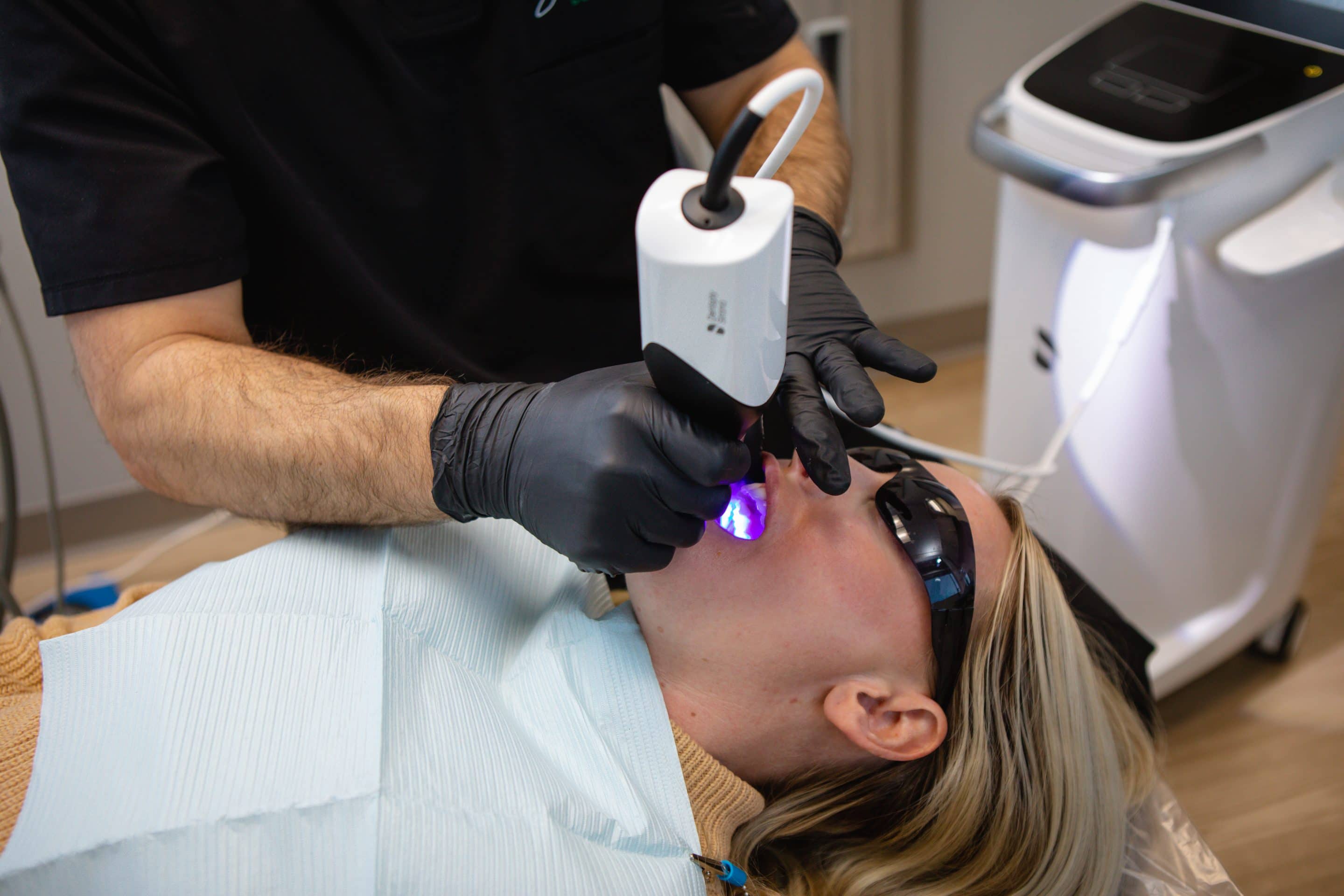 How Much Does a Same-Day Crown Cost?
The cost of a same-day crown is about the same as a traditional crown. Contact our office for specific pricing questions. You may also want to check your dental insurance plan to see if it will cover all or some of the cost. A dental crown may seem like an expensive treatment, but it lasts many years and saves your tooth.
CEREC Dentist in Olathe, KS
At Serenity Dental, we are proud to offer advanced dental options to our valued patients. CEREC same-day crowns add convenience to your life because you can get the treatment you need in just one visit to our office. All dental appointments include a thorough explanation of what we are doing, why the treatment is necessary, the cost, and how you can care for your teeth in the future. 
Contact us to schedule your next dental appointment at our Olathe, KS dental office.