Experience a Refreshing Take on Dentistry
Customized Dental Care for Bright, Beautiful Smiles
Protect Your Teeth With Dental Sealants in Olathe, KS
Our molars have large, grooved surfaces, making it easy for food particles to collect there. Even with regular brushing, sometimes particles can get left behind in these areas leading to cavities. Dentists recommend applying sealants to the top surfaces of those teeth to help protect them in certain situations. Here's what you should know about dental sealants.
What Are Dental Sealants?
Dental sealants are a resin coating applied over the top surfaces of your back teeth. This coating is very thin and not noticeable once in place. The sealant shields the surfaces of your teeth from harmful things that could cause tooth decay, such as food particles, bacteria, and acidic drinks. 
Dental sealants are beneficial to people of all ages. At Serenity Dental, we usually recommend sealants once the child's permanent molars come in. New teeth tend to be more vulnerable to decay because the tooth's natural enamel coating has not fully developed yet. Also, children are still learning the basics of oral hygiene care, which means they may not be getting those back teeth brushed as well as they should be.
Children are certainly not the only patients to get sealants. We also recommend dental sealants for adults and teenagers who struggle to clean their back teeth effectively. This may be due to an inability to brush properly or especially deep grooves in the teeth called fissures that are difficult to keep clean.
Dental Sealant Placement
Thankfully, the dental sealant placement is easy and pain-free. It only takes a few minutes. We often apply sealants following a regular dental cleaning and examination. Your tooth will be thoroughly cleaned and dried, and then we will roughen the surface of the tooth using a special solution. After the solution has been rinsed off and the tooth has been dried again, we carefully paint the sealant onto your tooth's surface. Once cured, the sealant is firmly in place. 
Benefits of Dental Sealants
Why do we think molar sealants are a good idea? Here are a few of their benefits:
Protect your teeth against cavities

Act as a shield against harmful foods and drinks
Better oral hygiene

Painless application

More cost-effective than fillings
Preventing tooth decay is always better than filling a cavity. We encourage all our patients to take good care of all their teeth so they don't have to deal with the pain and costs of restorations.
Caring for Your Dental Sealants
Your dental sealants are built strong so that you can treat them like your natural teeth. We recommend you keep visiting the dentist for a regular checkup every six months.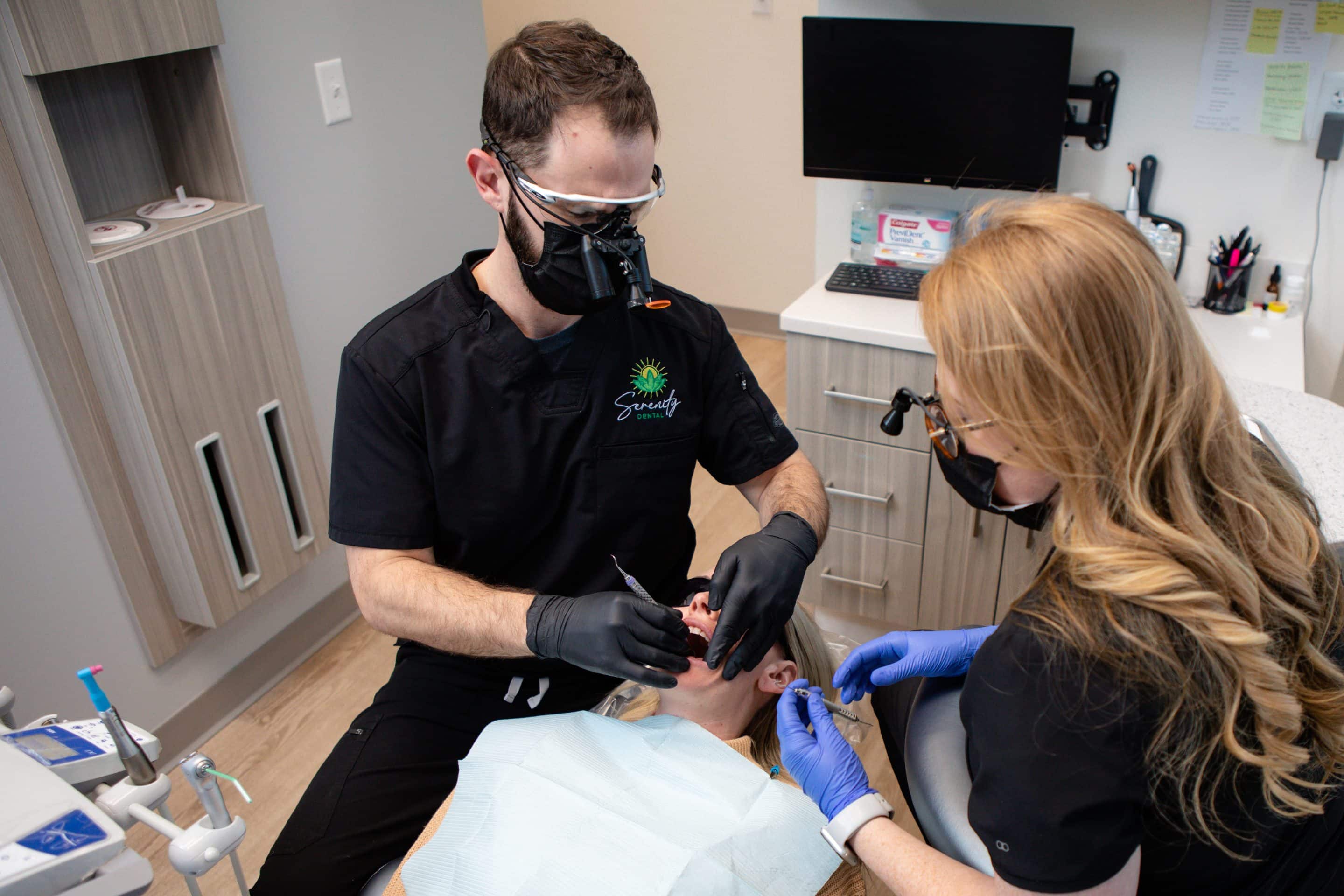 How Long Do Teeth Sealants Last?
Teeth sealants are very durable and last for years. Like everything, they do eventually wear out. Most sealants will last up to ten years, and then your dentist will let you know if they should be replaced or not.
Dental Sealants Cost
Dental sealants are considered a preventative service. Your dental insurance plan might cover all or some of the cost of the sealants. Please contact our office for specific prices if you don't have dental insurance.
Ask Us About Getting Dental Sealants
If you would like to protect your teeth with a protective dental sealant, please contact us to schedule an appointment. Serenity Dental in Olathe, Kansas, tries to make every dental procedure as relaxing and comfortable as possible. You'll love the special, personalized attention you receive in our office!