Experience a Refreshing Take on Dentistry
Customized Dental Care for Bright, Beautiful Smiles
Dental Exams in Olathe, KS
At Serenity Dental in Olathe, Kansas, we strive to make each dental examination as peaceful and comfortable as possible. Getting regular dental exams is essential because it helps us detect tooth decay or signs of gum disease early. If we catch problems early on, dental treatment is usually much more manageable and has a greater success rate. Keep reading to learn more about what you can expect during your dental check-up.
Why Do You Need a Dental Exam?
If you can prevent yourself from getting dental problems, you will do it, right? Even if you are practicing great oral home care, such as brushing and flossing regularly, you can still get cavities or start to develop gum issues. You need a professional and qualified dentist to examine your teeth and gums to catch problems before they become large, painful issues that require expensive restorations to fix. Routine dental exams are a great way to prevent major dental problems and keep your teeth healthy for a lifetime. 
Dental exams don't take very long, so we generally schedule them to occur with your professional dental cleaning. We recommend most patients come in for a cleaning and exam twice a year. If you notice something unusual in your mouth or are experiencing pain between your biannual exams, you should give us a call so that we can schedule a check-up.
Helping you stay on top of your dental health is just as important to us as it is to you. Our team is committed to providing personalized oral care that gives you peace of mind. We will also educate you on better ways to take care of your teeth and gums at home.
What Happens at a Dental Check-up?
You can expect the following things to occur during your routine dental exam:
Taking

digital dental x-rays

of your mouth allows us to see problems that we may not see with the eye.

The dentist then

examines your teeth, tissues, and joints

closely. He will look for signs of gum disease, tooth decay, tooth fractures, and anything else that could become a problem.

During the exam, the dentist also performs an

oral cancer screening. 

Biannual oral cancers screenings check for suspicious spots or lesions in the soft tissues of your mouth. 

The examination will conclude in a

diagnosis and treatment plan

if any problems are found. We will carefully go over the treatment plan, educating you on your options.
How Long Will a Dental Exam Take?
You can expect the examination to take about 10 minutes. Remember that most routine dental exams are coupled with professional dental cleanings, which take longer.
How Much Will a Dental Exam Cost?
Please contact us at our dental office in Olathe to ask about specific prices. If you have dental insurance, check your plan to see if it covers all or part of the cost of your dental check-up.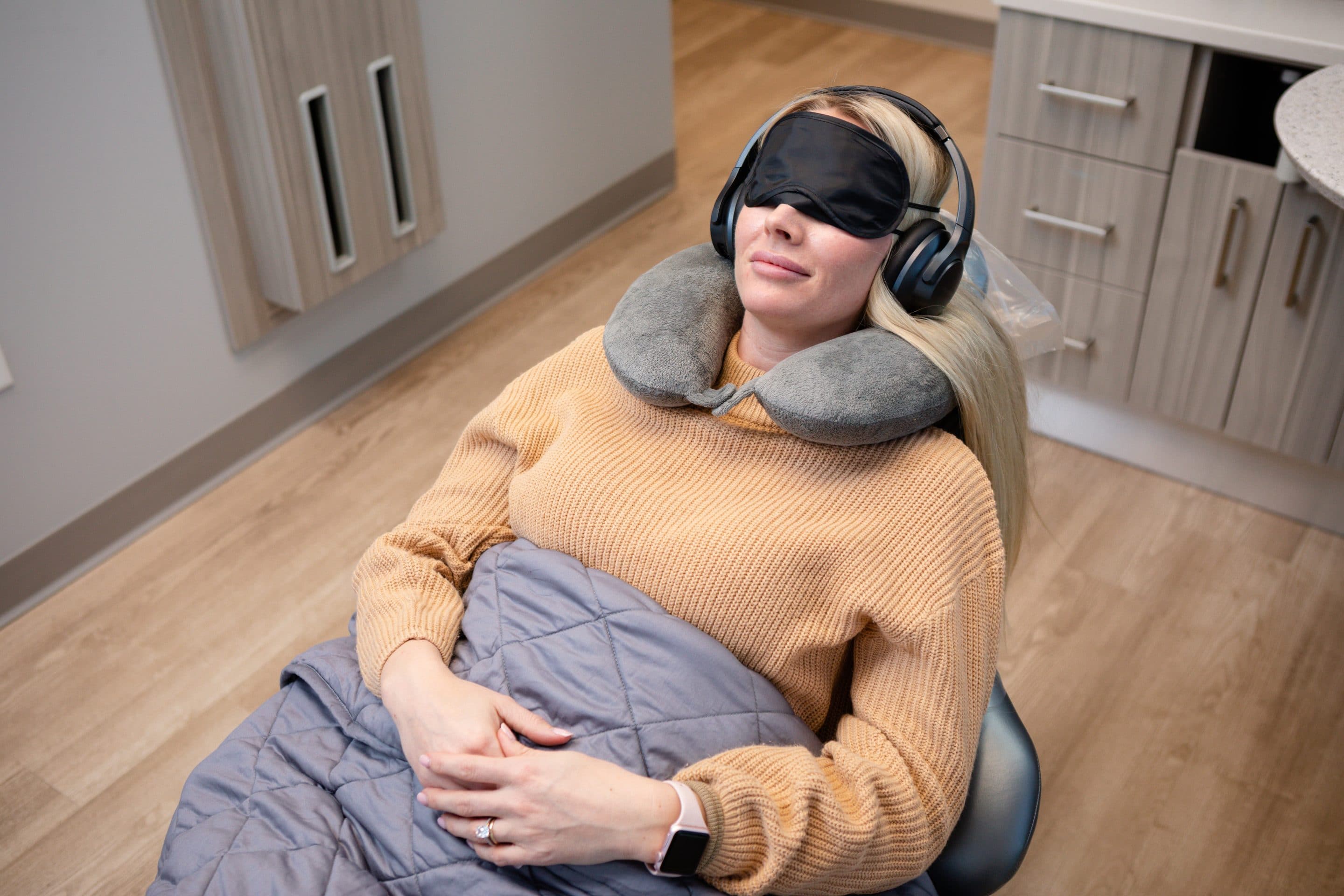 Routine Dental Exams at Serenity Dental
At Serenity Dental, you'll experience a more relaxed atmosphere designed to make you comfortable, even if you have had unpleasant experiences at a dentist before. We offer comfort amenities, such as stress balls, neck pillows, noise-canceling headphones, and weighted blankets to help you stay calm. A dental exam is all about preventing unpleasant dental problems before they become more significant. We will do everything we can to keep your smile healthy and happy!
Book your dental exam online, or give us a call today. We'll make your experience exceptional.