Experience a Refreshing Take on Dentistry
Customized Dental Care for Bright, Beautiful Smiles
Cosmetic Dentist in Olathe, KS
An attractive smile can make a big difference in how you feel about yourself. If you are self-conscious about the appearance of your teeth, you might not feel comfortable enough to show off your smile. That's why smile makeovers at the dentist's office are so popular. Using proven cosmetic dentistry methods, Dr. Silva and the staff at Serenity Dental can improve your smile, so you'll look just as great as you feel!
What is a
Cosmetic Dentist
?
Cosmetic or aesthetic dentistry is meant to improve the appearance of your smile. If your teeth are stained, chipped, misshapen, worn down, or have gaps between them, you may want to consider one or more of our cosmetic dental services. A cosmetic treatment plan from Serenity Dental is your dentist-approved ticket to a beautiful, uniform smile.
Restorative vs.
Cosmetic Dentistry
There is a difference between cosmetic procedures and restorative procedures. Cosmetic dentistry is more concerned with the way your smile looks. Restorative dentistry restores damaged or decayed teeth to a natural appearance, but it is also concerned with the function of your teeth. If you have a cavity, a cracked tooth, or somehow injured your teeth, you likely need restorative dental treatment. If you want a smile makeover to give your appearance a boost, consider paying a visit to a cosmetic dentist.
Cosmetic Dental Services
at Serenity Dental
At our Olathe, Kansas office, we offer the following services to improve your smile:
Teeth whitening:

Professional teeth whitening

safely and effectively whitens teeth.

Dental veneers:

Veneers are thin, tooth-colored shells bonded to the front of teeth for a more consistent look.

Dental bonding:

Cosmetic bonding

is one way we can change the shape of a tooth.

Inlays and Onlays:

Inlays are tooth-colored and are bonded to the inner section of a back tooth. Onlays are the same, except they extend to the tooth's cusp. Inlays and onlays can be used to replace unsightly fillings.

Clear Aligners: Clear aligners are a convenient and effective way to straighten teeth.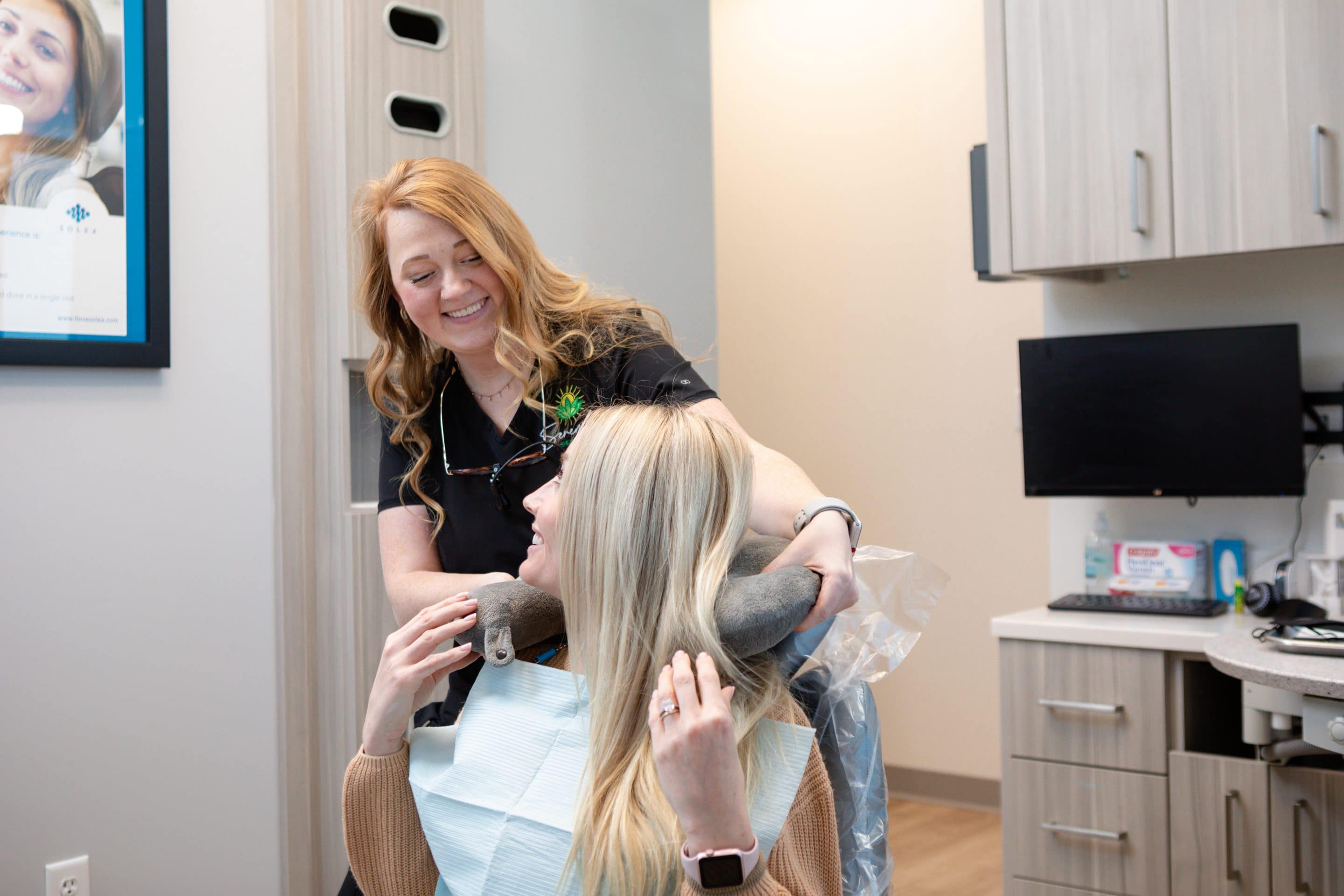 Benefits of
Aesthetic Dentistry
Cosmetic dental solutions improve the way your teeth look and how they function in some cases. Our cosmetic dentistry services can be customized to create a natural, beautiful look that is just right for your smile. Whether you suffer from discolored teeth, misshapen teeth, or something else, we can help you achieve the smile of your dreams. At Serenity Dental, we love to help people of all ages gain more confidence through cosmetic dentistry.
Cosmetic Dentistry Cost
Dental insurance plans do not cover most cosmetic dental services. You usually choose to have cosmetic procedures simply because you want them. Contact us for more information on the specific prices of our cosmetic services.
We're Here to Answer All of Your
Cosmetic Dental
Questions
We want you to feel comfortable with every service you receive from Serenity Dental. As your cosmetic and family dentist in Olathe, Kansas, we serve you in many ways, and we hope to build a positive relationship with you. Feel free to ask us any questions you have concerning cosmetic dentistry. We will answer your questions honestly, explain the different options available to you, and help you decide whether our cosmetic dental services are right for your smile. When you are in our office for any type of dental work, you can trust that we'll take good care of you. Take advantage of our experience and our compassion. Serenity Dental will give you more reasons to smile!
Please contact us to schedule a consultation if you would like to discuss cosmetic dental services.