Experience a Refreshing Take on Dentistry
Customized Dental Care for Bright, Beautiful Smiles
Oral Cancer Screening Services in Olathe, KS
If undetected, oral cancer can lead to several severe health issues, even death. However, when detected early, oral cancer is treatable, and chances of recovery are high. At Serenity Dental in Olathe, Kansas, we offer oral cancer screenings as a normal part of every dental checkup, so if you have the beginning stages of oral cancer, we can let you know about it and direct you to a doctor who can diagnose and treat your condition.
What is an Oral Cancer Screening?
An oral cancer screening is an exam performed by a dental professional to look for any signs of mouth, tongue, or jaw cancer. This examination includes looking at the cheek lining, the floor, the roof of the mouth, gums, lips, tongue, and tonsils. We look for lumps, lesions, discolored tissues, or irregular tissue changes. 
The exact cause of oral cancer is often unclear. We do know that the usage of tobacco, heavy drinking of alcoholic beverages, and excessive sun exposure can put people at higher risk for developing oral cancer. The American Cancer Society recommends people get an oral cancer examination at least once.
Oral Cancer Screening Services at Serenity Dental
We provide early-detection oral cancer screenings. The screening includes a visual exam of your oral cavity and gentle palpation of the head, neck, and oral cavity. If we detect anything that looks like oral cancer in its early stages, we will refer you to a medical specialist who can perform more tests to diagnose your condition.
Different Types of Oral Cancer Screenings
There are a few different methods of oral cancer screenings, including:
Visual exam, during which the dentist looks for anything abnormal inside your oral cavity.

Palpation involves using our fingers to feel the surfaces of our mouth, jaw, and neck.

Oral cancer screening dye, which is coated onto suspicious-looking areas, reveals any areas that are likely to become cancerous.

Oral cancer screening

lights reveal abnormal tissue when you rinse your mouth with a special mouthwash.
You can expect most oral cancer screenings to take less than five minutes. It is a simple, pain-free procedure. Your dental professional will let you know the results of the oral screening right away.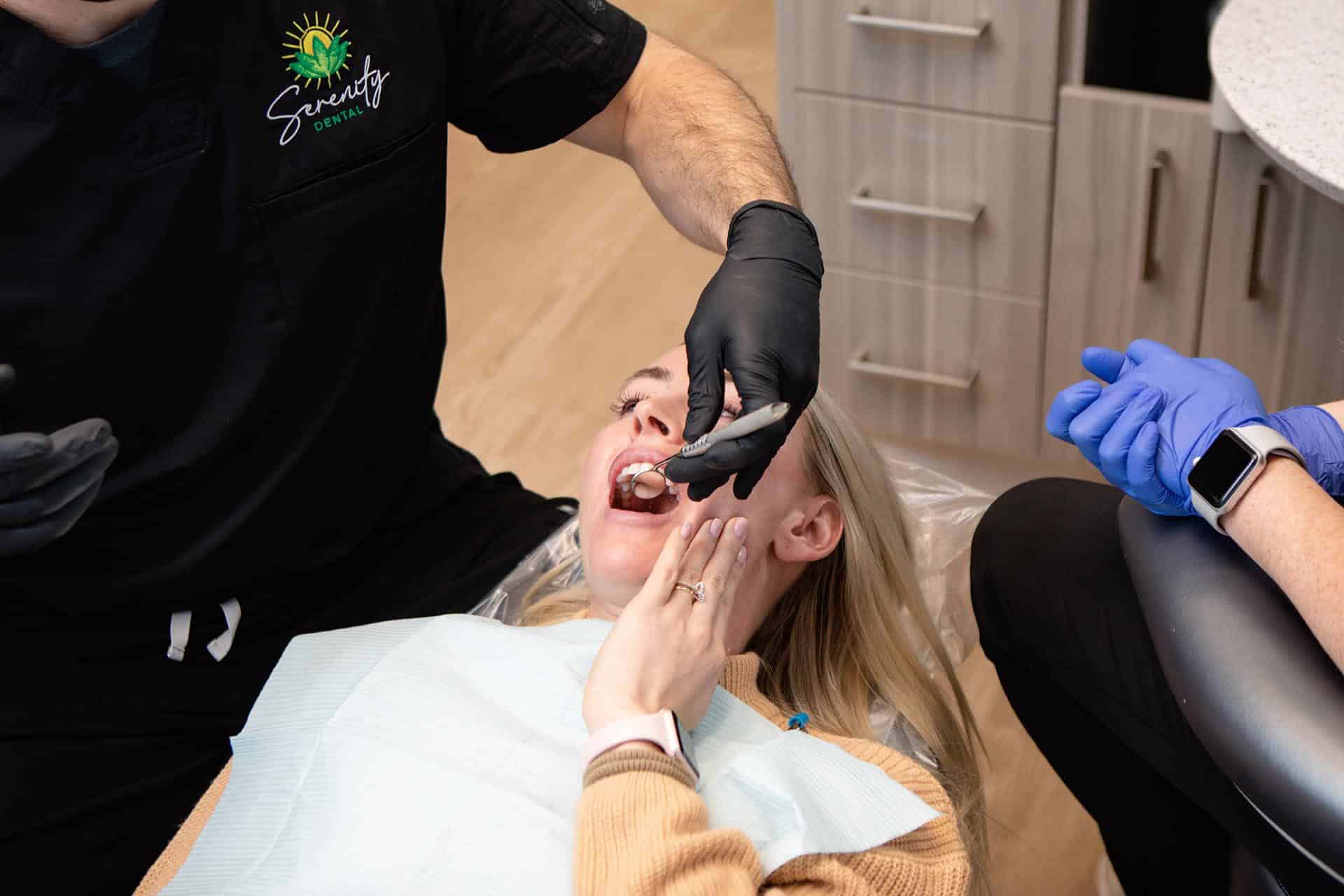 Choose Serenity Dental for All Your Preventative Dental Care
At Serenity Dental in Olathe, KS, we care about your oral health, which is why we want our patients to have routine oral cancer screenings. We make it our priority to help people maintain healthy mouths. You'll feel better knowing you are doing whatever you can to take good care of your teeth, gums, and the rest of your body. Schedule an appointment for a dental checkup today!