Experience a Refreshing Take on Dentistry
Customized Dental Care for Bright, Beautiful Smiles
Dental Implants in Olathe, KS
Do you have missing teeth? If so, you may want to learn more about dental implants. This long-term, effective solution helps you restore the function and natural appearance of your teeth. Serenity Dental is your home for all your dental needs in Olathe, Kansas. Keep reading to learn more about the dental implant procedure and if you might be a good candidate.
What are
Dental Implants
?
A dental implant is a titanium post surgically placed into your mouth to substitute for a tooth root. Once it is in place, it integrates with your bone, creating a solid and durable base for replacement teeth. Candidates for dental implants should have good oral health. With proper care, the implant works for 10-15 years or longer. The implant is designed to be strong, and the titanium metal does not cause harmful reactions when placed into living tissue. Once it fuses with your jawbone, it feels like a natural part of your mouth. 
Endosteal Implant
The titanium screw of an endosteal dental implant is surgically placed directly into your jawbone, beneath your gums. Once it has firmly bonded with the bone, a replacement tooth can be attached. 
What to Expect When You Get a
Dental Implan
t
The dental implant procedure usually happens in the following manner:
Exam

. First, the dentist will thoroughly examine your mouth, ensuring you are a good candidate for the

dental implant

procedure.

Placing the implant

. At the surgery, local anesthesia is used to numb the area where the implant will be placed. Next, the implant screw is placed into your jawbone. 

Healing

. It takes time for the implant to heal and fuse to the bone. The recovery time is usually around 4-6 months.

Placing the tooth

. An abutment is attached to the implant, which holds the dental crown. The tooth attachment is not removable, like dentures. 
All-on-4 Dental Implants
Serenity Dental has the resources and experience necessary for permanent tooth replacement, whether you need one or all of your teeth replaced. To replace multiple or a complete set of teeth, we use what's referred to as all-on-four dental implants or implant-retained dentures. A few implants placed on either the top or bottom of your mouth will be able to hold a partial or complete set of permanent false teeth.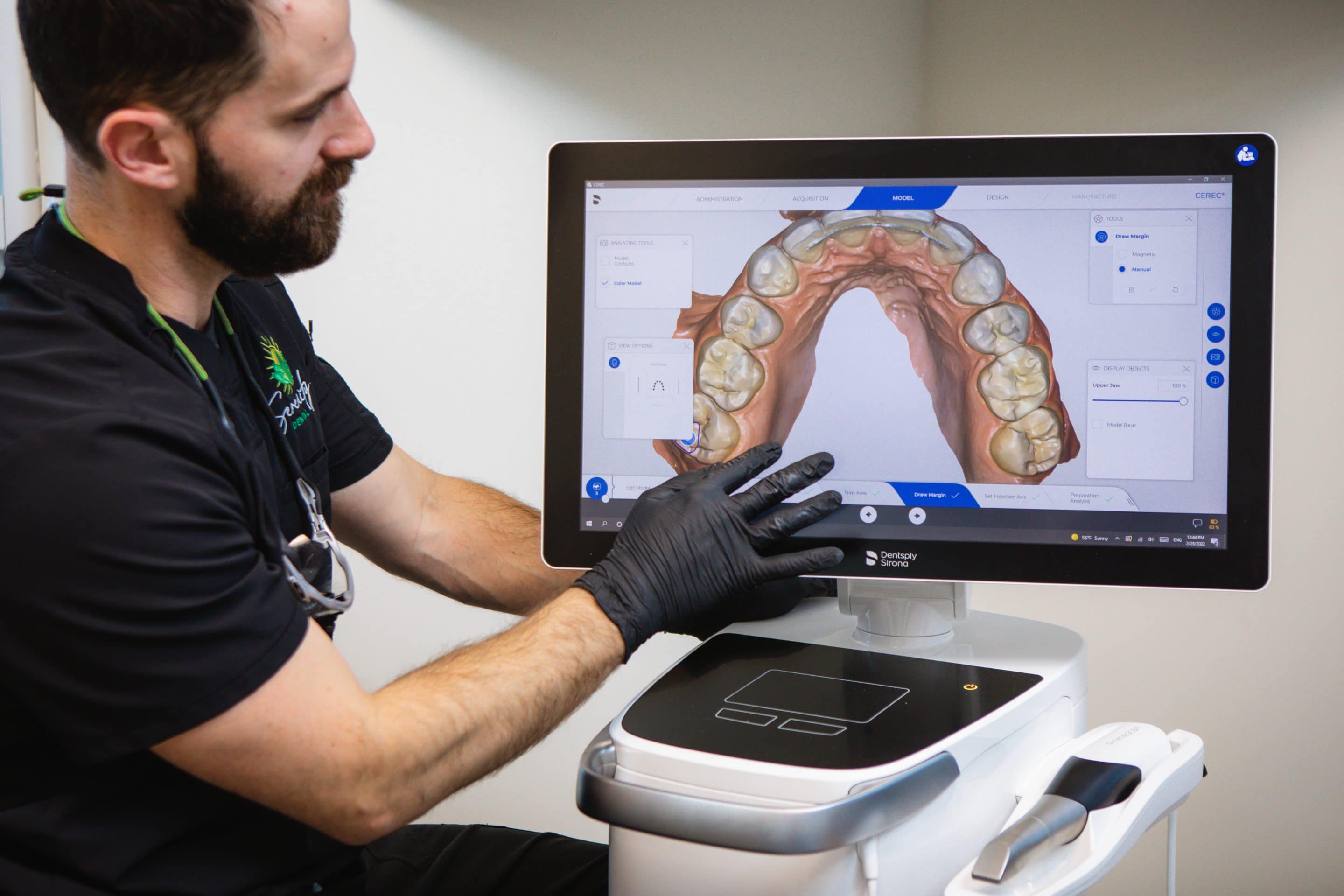 What is the
Cost of Dental Implants
?
Dental implants are long-lasting, and the procedure has a high success rate. For this reason, you can think of your implants as an investment. They won't need professional maintenance aside from routine dental checkups, and with proper care, they can give you all the benefits of natural teeth for the rest of your life. Every dental implant procedure is unique, so we can't tell you precisely what yours might cost without an examination. Many dental insurance plans cover part of the cost of dental implants. Dr. Silva will thoroughly explain your costs before you commit to any dental procedures at Serenity Dental.
Dental Implants at Serenity Dental
Our staff makes it easy for you to choose Serenity Dental for your dental implant procedure in Olathe, Kansas. We have the advanced technology to get the job done correctly, and we welcome each patient to our calming dental office so you can feel at ease. If you would like to discuss how dental implants could benefit you, please contact us to set an appointment.