Experience a Refreshing Take on Dentistry
Customized Dental Care for Bright, Beautiful Smiles
Safe and Effective Fluoride Treatments at Serenity Dental
Protect your teeth and fight against cavities with a powerful, easy fluoride treatment. Most people can benefit from a fluoride treatment, and at Serenity Dental in Olathe, Kansas, we are happy to offer these treatments to our valued patients. The process only takes a few minutes, it's safe and painless, and the results will make you smile.
What is a Fluoride Treatment?
Fluoride is a natural mineral found in some foods and is added to many tap water sources. This mineral helps rebuild, or remineralize, the enamel that protects the nerves, pulp, and blood inside the teeth. Enamel can be worn down through natural aging and demineralized due to acids in our foods and drinks. 
Fluoride treatments at the dentist are a gel, varnish, or foam solution containing a high fluoride concentration. The solution is applied to your teeth, typically following a professional dental cleaning.
Fluoride Treatment Benefits
You may be surprised at the number of positive things fluoride treatments for teeth can accomplish!
Reduce the risk of cavities.

Help stop the growth of untreated cavities.

Prevent expensive tooth restorations.

Protect teeth so they last longer.

Reduce tooth sensitivity.

Help prevent gum disease.
Who Should Get A Fluoride Treatment?
Children should get fluoride treatments as soon as their teeth begin to grow. The treatments help prevent tooth decay and future dental problems. 
Fluoride treatments for adults are also beneficial, and the dentist may recommend them every 6-12 months. Fluoride treatments are essential for anyone at a higher risk of tooth decay, gum disease, or drinking water from a well that is not fluoridated.
Fluoride Treatment Process
Our fluoride treatment process at Serenity Dental is quick and easy. A dental hygienist applies the solution to the surfaces of your teeth. After the treatment, you should avoid eating, drinking, or rinsing your mouth for 30 minutes.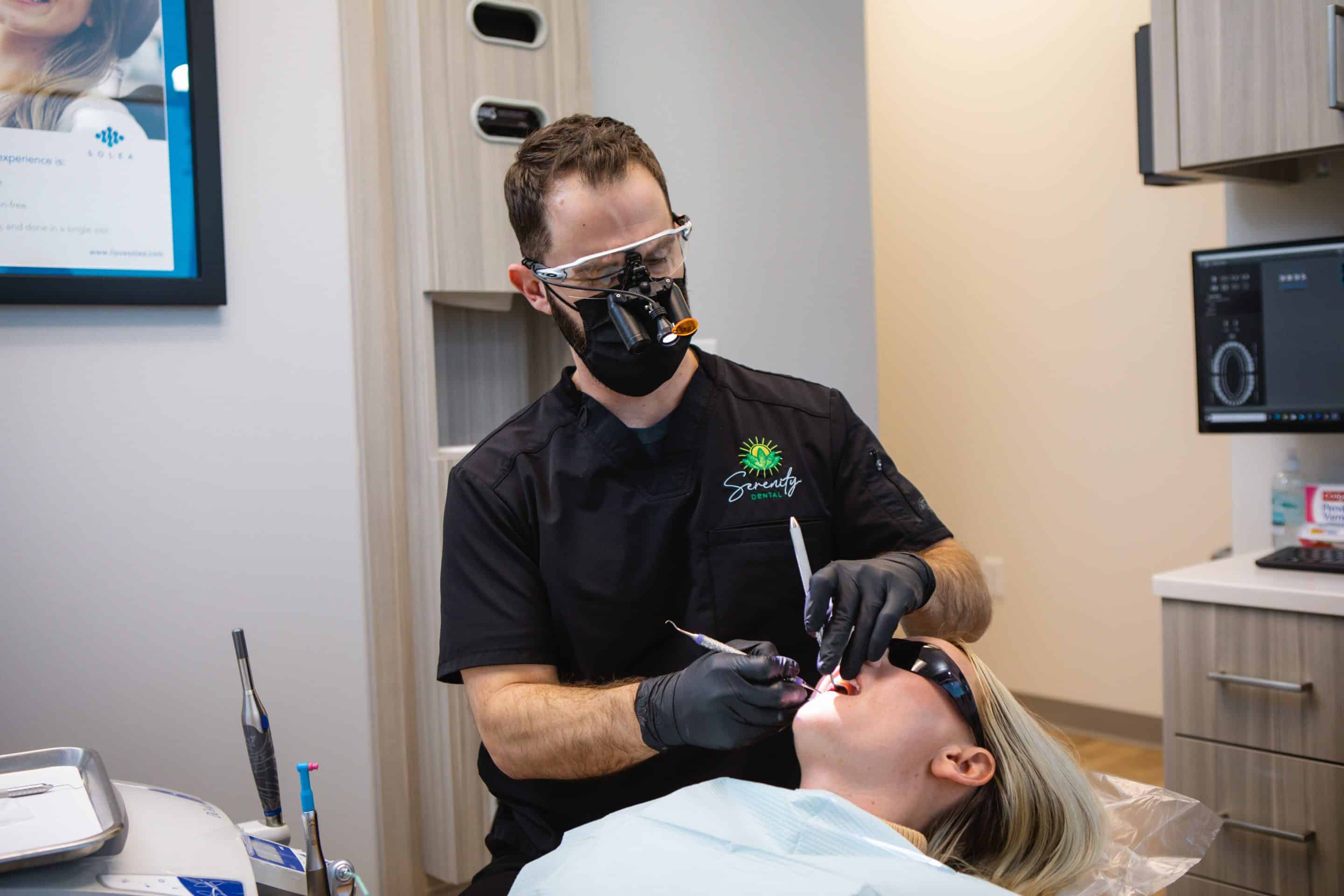 Is Fluoride at the Dentist Safe?
Fluoride is safe enough to be in our drinking water! As with most minerals, too much fluoride can lead to some unpleasant side effects, but you shouldn't worry too much because it is difficult to reach a hazardous level of fluoride.
Fluoride Treatment Cost
Some plans cover the entire cost of the fluoride treatment because it is considered a preventative service. Contact our office for more information on pricing.
Why Choose Serenity Dental for Your Fluoride Treatment?
The caring staff at Serenity Dental wants to improve your oral health, and fluoride treatments are one of the options we offer to make that possible. We believe you should be able to receive dental care in a relaxing, calming environment. Our dental office in Olathe, Kansas, is designed to make every treatment as comfortable as possible. You can feel confident knowing our dental products and technology are up-to-date with the ever-evolving dental world. 
Let us know if you have any questions about fluoride treatments. Contact us to schedule an appointment if you are due for a dental visit!