Experience a Refreshing Take on Dentistry
Customized Dental Care for Bright, Beautiful Smiles
Dental Cleanings in Olathe, KS
Don't underestimate the importance of getting your teeth cleaned at the dentist's office! Teeth cleanings at Serenity Dental give your mouth that fresh and clean feeling, plus they fight against oral diseases and tooth decay. When your mouth is healthy, the rest of your body benefits.
Benefits of Regular
Teeth Cleanings
Regular teeth cleanings serve many purposes, including:
Prevention of cavities and gum disease

: Removing plaque and tartar helps prevent tooth decay and gum disease. A professional

dental cleaning

gets into all those hard-to-reach spots that you might miss when you brush your teeth. Plaque is mostly invisible, and it is tough to remove all of it at home. A professional hygienist can get rid of that plaque so it doesn't accumulate and cause dental problems.

Remove some built-up stain:

Teeth can become yellow over time. A

teeth cleaning

helps brighten them up. 

Save money on potential dental treatments

:

Teeth cleanings

prevent cavities from starting, so you won't have to spend money on restorative procedures to fix major problems. 

Keeps your body healthier:

Dental health directly affects your overall health. Keeping your teeth clean and healthy may reduce your risk of certain heart diseases.
The
Teeth Cleaning
Process 
When you come to Serenity Dental for your dental cleaning appointment, we take the following steps to give you a healthier, cleaner smile:
Removal of plaque and tartar:

The hygienist will gently remove the plaque and tartar from your teeth using a scaling tool.

Tooth polishing:

The polishing tool removes anything left behind in the scaling process and buffs your teeth for a glossy white shine.

Expert flossing and rinse:

The hygienist will thoroughly floss between and around all your teeth. Rinsing your mouth with water ensures all the tiny food deposits and tartar get washed out.
How Long Does a
Dental Cleaning
Take?
Your dental cleaning will take 20-45 minutes. While you are seated in the dentist's chair, we can offer you a variety of comfort amenities, such as a weighted blanket, to make your visit more relaxing.
What is the Cost of a
Dental Cleaning
?
Always feel free to call our office with any pricing questions. You can also check with your dental insurance plan. Many plans cover all or part of your regular dental cleaning. Remember, getting regular teeth cleanings is one way to prevent future, costly trips to the dentist.
Professional Teeth Cleanings
at Serenity Dental
Kids, teens, adults, and seniors should visit the dentist twice a year for a dental cleaning and examination. In some cases, the dentist may recommend a cleaning three times a year.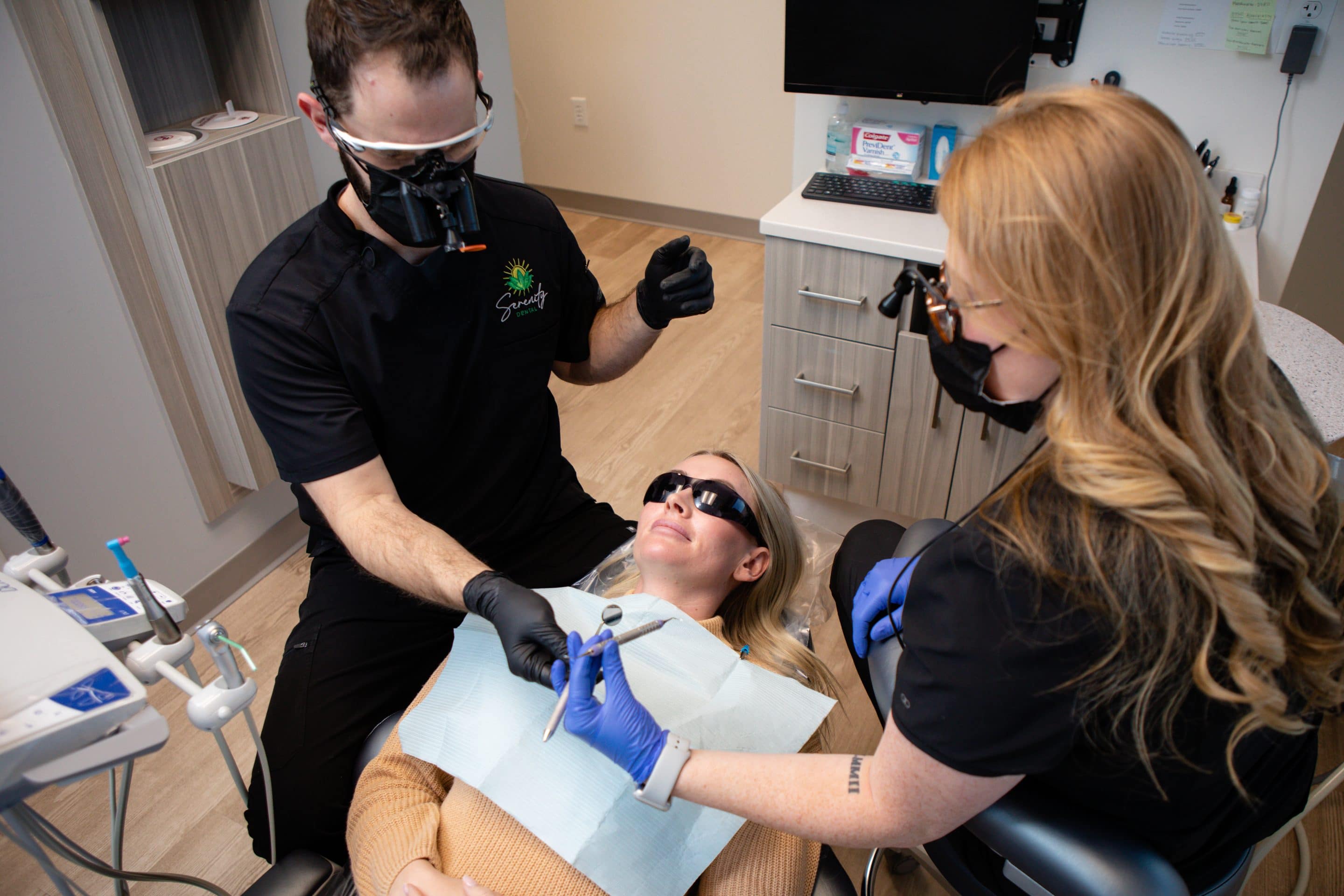 Professional Teeth Cleaning
at Serenity Dental
We genuinely care for each of our patients, and because we are a family dental office, we provide preventive dental care for your entire family. It's our pleasure to clean your teeth so that you can enjoy a healthier smile. The ADA recommends bi-annual teeth cleanings, so make the smart choice to get your cleanings done at Serenity Dental, where we build lasting relationships that benefit you in the long run. 
Is it time to get your teeth cleaned? Book your appointment today. We look forward to seeing you smile!