Experience a Refreshing Take on Dentistry
Customized Dental Care for Bright, Beautiful Smiles
Preventive Dentistry in Olathe, KS
At Serenity Dental, we believe that the key to a healthy smile is an excellent preventive dental care routine. Between our comprehensive dental services and your routine at home, you can enjoy a beautiful smile for years to come. Dr. Silva and the rest of our staff are your allies against tooth decay, gum disease, and other dental problems. We work hard to give you high-quality dental services that make a positive difference in your life.
Preventive Dentistry at Serenity Dental
Preventive dentistry is for everyone. Every patient needs regular preventive dental care, even if you already have a healthy smile. We help prevent cavities, oral infections, diseases, and other dental problems. When preventive care happens regularly, we can catch minor issues before they become major, expensive issues. Spotting cavities early minimizes the amount of treatment you'll need later. Dental problems do not get better on their own, so early detection is the best way to keep your mouth in good condition. Along with providing complete family dental care, we advise you on proper methods to brush and floss, plus we give helpful, personalized tips that will improve your oral care routine
Complete Dental Care
At Serenity Dental, we offer comprehensive dental care, including the following preventive services:
Regular oral exams.

Dr. Silva will carefully examine your teeth and gums, looking for any irregularities.

Professional teeth cleaning.

We gently remove tartar and plaque from your teeth for a brighter, healthier smile.

Digital dental x-rays.

Our advanced technology makes it possible to spot problems in hard-to-see places. 

Fluoride treatments.

These treatments are fast, easy, and effective at protecting your teeth from decay.

Dental sealants.

Protect the grooved surfaces of your back teeth with sealants, which form a barrier against food and bacteria.

Oral cancer screenings.

Spot oral cancer early for a higher success rate of treatment.
At Home Dental Care
In addition to regular visits to the dentist, the best way to keep your mouth healthy is to practice excellent oral care at home. 
Brush and floss regularly. Use mouthwash daily. 

Make sure your toothpaste contains fluoride for the most effective prevention against cavities. 

Avoid tobacco products

We also encourage you to take extra precautions when eating hard foods and candies. We don't want you to break your teeth!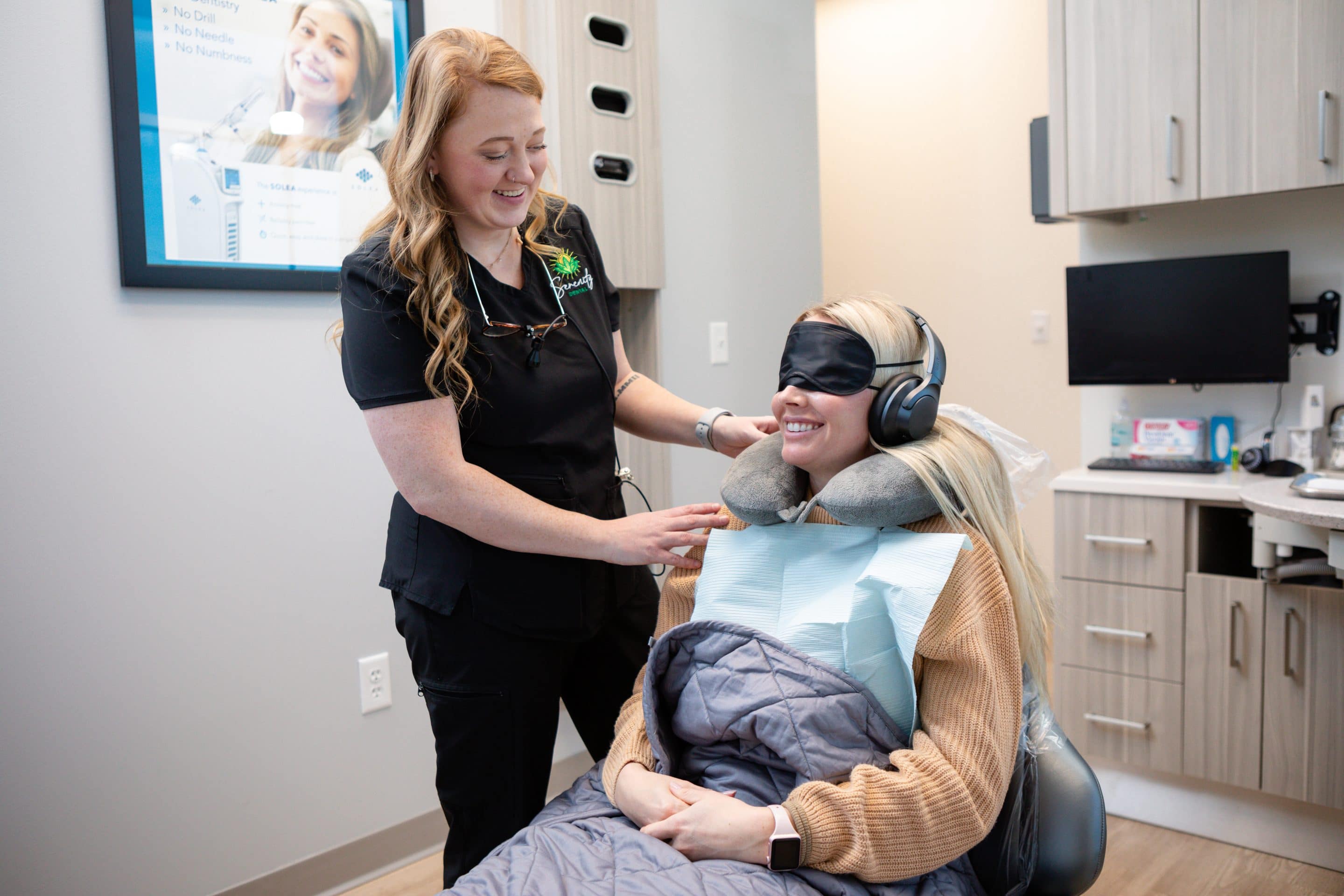 Preventive Dental Care Cost
We understand that dental treatment can get expensive. That's why we stress the importance of getting regular dental exams and cleanings. As a part of preventive dental care, your regular visits to the dentist will keep your teeth cleaner and healthier, plus we'll be able to identify problems before they become major issues. Since major restorative procedures often cost than a regular checkup, you will save time, money, and stress by staying on top of your dental health.
Choose Serenity Dental for Exceptional Preventive Dentistry in Olathe, Kansas
Our dental office is designed to be calming and relaxing for all our patients. If you avoid regular dental care because you suffer from anxiety at the dentist, give us a try. We offer a different type of experience that also includes the latest dental technology. 
Is it time for a checkup? Give us a call, or book your appointment online. We look forward to seeing you in our Olathe, Kansas office!