Experience a Refreshing Take on Dentistry
Customized Dental Care for Bright, Beautiful Smiles
Root Canal Dentist in Olathe, KS
If you need root canal treatment, you want to go to an office that helps you feel comfortable and relaxed. Let the professionals at Serenity Dental take care of you while giving you quality dental treatment in Olathe, Kansas. Learn more about the symptoms that may indicate you need a root canal, how we treat it, and the benefits of root canal therapy.
What is Endodontics?
Endodontics is the branch of dentistry that deals with the tissues inside your teeth. If your tooth's pulp and nerve tissue become infected, it causes pain and discomfort. Endodontic treatment takes care of those soft tissues, removing infection to save your tooth, so it doesn't require extraction. Infections inside your teeth should be treated as soon as possible.
Symptoms that may signify the need for root canal therapy
Although some people don't feel or see anything when their tooth becomes infected, others may experience one or more of the following symptoms: 
Pain in your tooth when chewing

Sensitivity to hot or cold, mainly if it is a prolonged sensitivity

Your tooth has darkened in color

Tender, swollen gums

Pimples appear on your gums
Do you think you might need root canal therapy? Schedule an appointment with your dentist. Infections in your teeth are serious and should be diagnosed and treated as soon as possible.
Endodontics Diagnosis and Treatment
When you come in for an examination, the dentist will examine your teeth using dental x-rays to see what is happening under the surface. You will get a diagnosis and a customized treatment plan. Your dentist may notice the need for root canal treatment when you come in for a regular checkup. This is one reason why keeping your routine dental checkup appointments is essential.
Root canal treatment usually begins with local anesthesia being applied to your mouth. After you are completely numb, the dentist will use a drill to create an access hole through your infected tooth. The infected tissues are removed through the hole, and the inside of your tooth is cleaned and disinfected. You may also need some medication to clear up the infection completely.
Once that is accomplished, your tooth will be filled and sealed with dental filling materials. Sometimes the tooth has been weakened so much that it needs additional support, and a dental crown will be put over it. 
We explain every aspect of your treatment before we start, which helps you understand what is happening inside your mouth and gives you more peace of mind during the process. We also offer comfort amenities like weighted blankets and noise-canceling headphones. Let us know if any of these will help you through the treatment.
You will also receive specific instructions on caring for your tooth following the root canal treatment. 
Benefits of Endodontics
Consider these benefits of treating your infected tooth:
Root canal treatment

helps save teeth, so you won't have a missing tooth and need a replacement.

Because we use anesthesia, you don't feel any pain during the root canal procedure. Many patients also report immediate relief after treatment since the source of the pain has been removed. 

Root canal treatment

costs less than getting your tooth extracted and replaced with a denture or implant.

Removing the infection from your tooth prevents the infection from spreading to other parts of your body.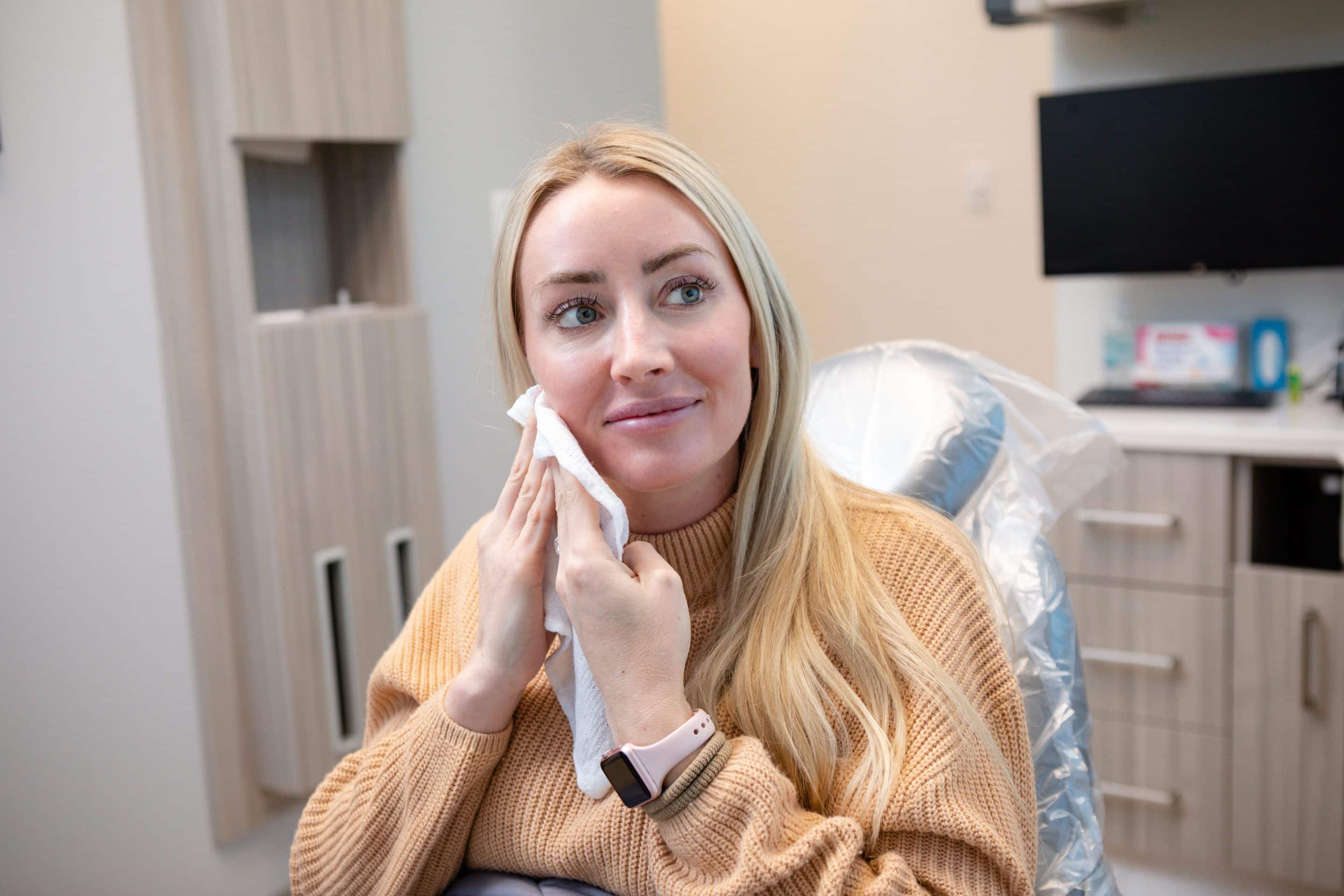 What is an Endodontist?
Although we can perform most root canal treatments in our Olathe, Kansas dental office, some cases may be more complicated and require a specialist. We will refer you to an endodontist if we feel like we cannot give you the treatment you need. An endodontist is a dentist who focuses on root canal treatment and other procedures dealing with tooth roots.
Root Canal Treatment Cost 
The cost of root canal treatment varies due to the infection's severity, the tooth's size, and whether the tooth has already had root canal therapy in the past. If the tooth is severely damaged, it may also need more restoration work after the treatment. Many insurance plans cover 80-100% of the cost of a root canal. Check with your dental insurance company for the details of your plan.
Remember that the longer you wait, the more treatment you will probably need.
Contact Serenity Dental Today to Schedule an Examination
If you believe you need root canal treatment, contact us to schedule your appointment. Dr. Silva will carefully examine your tooth and give you an accurate diagnosis and treatment plan. At Serenity Dental, we are committed to providing you with the best dental experience possible so you can have a healthier smile.